Welcome to the second month of my media consumption diary, were I briefly vent about all the media I've consumed in the previous month including, films, video games, tv shows, anime and manga. Look for a heading you're interested in and have fun…
Attack on Titan Season 3:
Attack on Titan Season 3 has continued with its break-neck speed and has already concluded adapting the Uprising Arc, in only 10 episodes. Overall, it was all fine and dandy, nothing made me mad and the Kenny backstory episode, which is the highlight of the arc, was handled appropriately. I'm entirely satisfied by this adaptation and even further impressed with its continued coordination with the manga (See my article of chapter 109 of Attack on Titan for further details on that aspect). Since I am a manga reader there isn't much for me to speculate about, but I am interested to see how they stretch the following arc across 15 episodes when I think the material is only enough for 8-10 more episodes. We will have to play patient fellas with Attack on Titan Season 3 and you'll have to wait until next month for an update.
My Hero Academia Season 3:
My Hero Academia Season 3 has concluded, Season 4 is already confirmed, in case anyone somehow was still questioning that fact. Last time I made one of these I wasn't too high on the boring exam we were in the middle of, but I can proudly state that by the end of the season the show had entirely won me back, largely because of Episode 24. This episode hit every quota for my personal enjoyment of My Hero Academia. It was nearly entirely focus on the villains and character interactions, my two standout wants from My Hero. The opening segment that focused on a mysterious, yet interestingly introspective man was truly entertaining and when later he was revealed to be Twice, gave that character some much needed depth. It engaged me with a forgettable comic relief character and reintroduced him as a tragic introspective villain. The plot further grew in that episode with the introduction of Overhaul, a new villain with a signature look. Now I'm unfamiliar with the manga for My Hero but I have seen these 'Peak boys' around the internet and I like their aesthetic, so I'm interested to see his role in things moving forward. However, I'm currently internally debating if I should wait for Season 4 or just go ahead and read the source material.
Steins; Gate 0:
I saw someone literally decapitated in Steins; Gate 0, and asked myself, 'what the fuck is going on?' The narrative surrounding Steins; Gate 0 remains unchanged, I believe this is a show unsuitable for weekly consumption and binge watching it is the only way to properly understand the series. But I'll continue to watch as it is Dubbed weekly and then once it is all realised I'll re-watch it all from the beginning and revaluate my opinions. In the meantime, I would like to further empathise my hatred for Kaguri and uneasy feeling about a superhero decapitating someone in a Steins; Gate related show, it was quite disconnecting from the usually grounded nature of the series.
Vinland Saga:
Vinland Saga continues to impress and has maintained my interest through a drastic genre change. There are no more battles in Vinland Saga, if you came into this series excepting an action series, you haven't been paying attention and its likely this series will lose you at this point. It seems like the message of Vinland Saga is absolute pacifism. Vinland Saga is seemingly about Thorfinn learning what it means to be a true warrior, meaning laying down you weapons.  This is thematically presented to him by his father and by Askeladd in his recent dream/nightmare adventures, that he's be having every night but not remembering. It is exposited to him that it's never ok to strike another human being, by his father and Askeladd presents the horrors of Valhalla to Thorfinn and how he's managing to escape this hell through his recent lack of murder.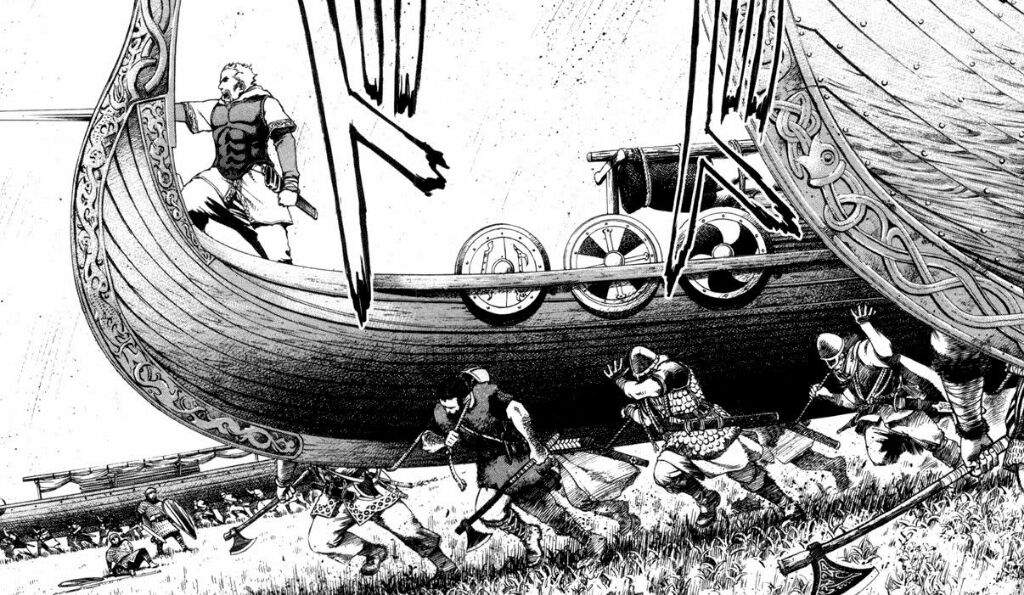 To explain to those uninitiated for the first 50 chapters Vinland Saga is a clearly Berserk inspired manga about the horrific nature of medieval society and war. A scene that cannot stop thinking about, that incapsulates the tonal dark nature of these initial 50 chapters is where the band of Vikings Askeladd leads, and Thorfinn is a part of, is staying in a small village and are running roughshod over the area. And in this commotion, there is a moment of reflection from the typically empathy-less Thorfinn for a young girl who is tied up with her clothes ripped off, clearly about to be raped by his Viking comrades. Now it is important to point out that Thorfinn is only comrades with these people out of hatred and the Askeladd despises all of them, so they aren't horrible people for surrounding themselves with the people in this situation, they both secretly hate them all. But the effectiveness of this scene is in the implication of what's happening, and the desperation mixed with acceptance in the girl's eyes. It's a hauntingly effective scene that demonstrates the brutality of the world of Vinland Saga and now, the series has become about humble farmers, and SOMEHOW it works incredibly. We have collectively transformed the tone from that to a farming show about the horrors and struggle of slavery and directionless life. I stopped after finishing chapter 72 and can't wait to see how the story further progresses with the new cool characters like Snake, Einar, Arneis and the old master of the farm. Vinland Saga is great!
Devilman:
My continuation with Devilman has been significantly affected by Vinland Saga, whenever I decide to spend time reading a manga I've always opted to read Vinland Saga. I'm still extremely early in the Devilman manga, Akira is still yet to become Devilman. The set-up of the series is much more expositional in the manga, Rio is just dumping plot details on the audience and Akira. In Crybaby I remember just being thrust into a night club, sex party and then suddenly we had ourselves a spooky Devilman. I don't know which alternative method is better but there's got to be a happy medium that limits the lazy exposition but doesn't assault the reader with imagery. I hope to further understand Devilman by the time I return to you next month.
Cowboy Bebop:
I'm still slowly forcing my way through Cowboy Bebop, and it's your fault… I don't what to continue, I'm over this episodic boring nonsense, but I have to be able to say I've watched it to appease you people. I'm watched up to episode 15, and I still don't care about these characters, Spike is still uninteresting, and I maintain that his backstory and everything in reference to Vicious should have been left in Episode 5, the only good episode of this series so far. Faye is still the hottest anime bitch I've ever seen, but I don't care about her, Jet is the same and Edward is funny. Episodic shows just remind me that I'm wasting my time watching and I don't like to have my wastefulness reaffirmed by the media I'm consuming. Tune in next month to see if I have turned around on Cowboy Bebop and maybe had a revelation about this series' supposed brilliance.
Serial Experiment Lain:
I have a very weird way of consuming new media that makes it impossible for me to form an intelligent opinion on anything during my first viewing. I subconsciously must have known it for a while but now I'm consciously aware of my deficiency. It takes something incredibly straightforward for me to evaluate everything on a first viewing and Serial Experiments Lain is definitively not a straightforward show. So, as I was slowly digesting this show, sort of disinterested, I knew that it would immediately become one of my favourite shows after I'd finished it and reflected on it slightly. I don't know what it is about me that hates nearly everything on the first time; I'm constantly looking around, not paying attention and secretly hating myself because it feels like I'm stationary in a seat wasting my time. However, re-watching anything is much easier and way more enjoyable to me. I didn't like the Godfather until I quickly re-watched it a few days later; I didn't like Evangelion until I thought about it over the following few days. It must be me understanding what I'm getting into before watching the re-watch that puts me at ease and allows me to enjoy the experience, maybe it's about understanding.
Serial Experiments Lain as insane as it is awesome and I'm in love with it. The aesthetic is an instant giveaway that this show is outwardly interesting, Lain's character design is near perfection, she's incredibly cute and endearing and when her appearance is slightly manipulated, her character design is also near perfect as a malicious psychopath. The opening is already downloaded on my phone, what a fitting song, I love that it mocks the audience (intentionally or unintentionally). The first line just rubs in that the abstractness of this show is flying immediately over your head, "And you don't seem to understand". The shows ability to understand what would become popular internet culture is astounding. The wired takes over people's lives and integrates itself into the real world, just as the internet has become another layer of our contemporary world. The VR headset prediction was also impressive and it's incredible that the show introduces the idea of 'memes,' creates a 'meme' within the world of the show in, "Let's all love Lain," and then for that to become a widespread 'meme' in our reality is some legit metatextual shit. This show is fantastic, already one of my favourites and I'm currently going back through it in the Sub because this is going to take a while to fully understand and comprehend.
RahXephon:
RahXephon is one hell of a fun ride, but I don't know how much RahXephon itself contributes to my interest level. My interest in this show is somewhat predicated on the fact that it is basically a retelling of Neon Genesis Evangelion, and I love to identify the similarities and differences between the two shows and see how RahXephon decides to alter the story idiosyncratically. So, in that statement am I praising RahXephon or Neon Genesis Evangelion? I don't know, but I am enjoying my time with this show nonetheless; the imagery is fun the symbols are being set-up and I'm fascinated by the characters. The winey elements that are prevalent in Shinji but weren't as evident in our main character in RahXephon, have started to become apparent in recent episodes. I left off on Episode 5, they introduced all the soldiers outside of Tokyo Jupiter, a neat homage to Tokyo 3. The Pink haired girl seems interesting, Misato's counterpart seems interesting and may or may not be hooking up with that girl fighter pilot that was introduced, and the mysterious Rei girl is interesting. I like how our main character and our Rei interact differently in this show, they actually talk and relate to each other for a scene or two, nearly immediately, whereas Rei and Shinji took episodes to come to an understanding and then Rei just got reset and we had to start all over again. RahXephon is at the top of my list for things I'm interested in continuing in the coming month.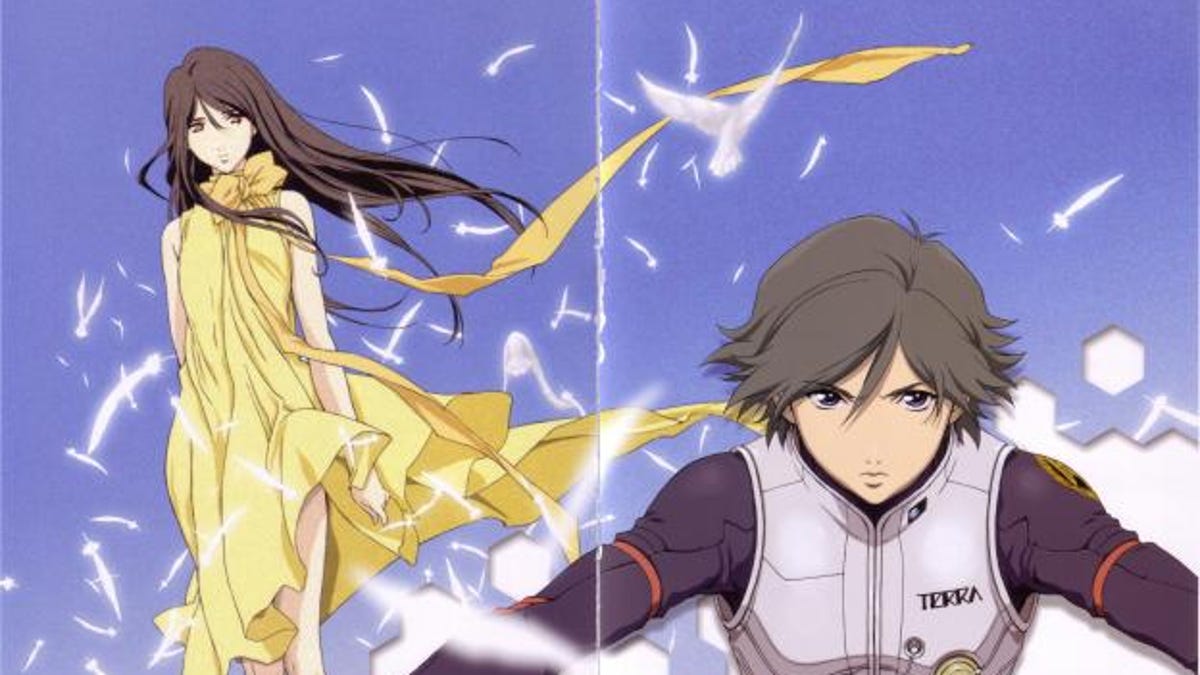 Vision of Escaflowne:
Sadly, because of my overbearing focus on Serial Experiments Lain for most of the month, and my last-minute fling with RahXephon, I haven't followed up with anymore Escaflowne. Interestingly enough, last month I was most interested in continuing Escaflowne, but because of the appealing short length of Lain and its overall density, Escaflowne was sadly left on the back burner. I still have every intention of continuing my journey with this show and will hopefully have more for you next month.
Revolutionary Girl Utena:
Unfortunately, Revolutionary Girl Utena has fallen into similar trappings as Vision of Escaflowne, and I have come to you a month later with no progression. The difference is I'm entirely unmotivated to continue Utena, I will because I always force myself to do things, but that first debacle of a Dubbed Episode 1 fucked me up. I have at least some faith that the show will increase in quality going forward and that the Sub will pick up the slack of that nightmarish Dubbing job I was exposed to.
B Geta H Kei:
The show is among the greatest pieces of art ever created. It's so endearing and so sweet but it's all wrapped in a hilarious sexual outer layer. Yamada is the best female character in amine, she's clearly written by a writers-room of men projecting their fantasy perfect female personality onto the attractive anime girl, but that's entirely what their target audience wants so it works perfectly. The conceit of the series is fantastic, a girl with the goal of sleeping with 100 high school boys over her high school career, but by the end wasn't even gone all the way with a single dude but, has instead fallen for one dude. The only negative here is that Cosuda is a boring audience surrogate who could have been much more interesting or dynamic. But the endearing ending is entirely satisfying to the audience even though she has entirely failed on her initial goal, because in the end it wasn't about the destination, it's about the journey.
But last time I talked about the sensation of 'forgotten nostalgia' and how it related to my experience with this show immensely. This was true for the entire re-watch, up until the end I had an overwhelming nostalgic experience that has definitely clouded my judgement when it comes to this series. I would like to delve deeper into this nostalgic overwhelming experience and this show at a later date and leave you with these thoughts for now… It's fantastic.
Final Fantasy 2: (PS1)
My struggle with Final Fantasy 2 is finally over with. It was a lengthy journey of constant starts and stops but finally I've conquered the JRPG behemoth. It took me 29 recorded hours to beat the main story of Final Fantasy 2, (I wouldn't dare attempt a 100% run) and likely 40+ actual hours, because in this game dying means your kicked back to menu and all your unsaved progress is gone and not recorded in the timer. I took a massive break throughout this playthrough, I'm talking months between sessions and by the end I was dying for it to be over. I did a very similar thing when I played through Final Fantasy 1 and wonder if this will be a reoccurring theme as I delve into longer JRPG experiences as we progress through this series. I found the infamous levelling system of this game very hit and miss, I think that's the common consensus. In reality it ended up working similarly enough to a normal levelling system, that it didn't bother me enough to widely detract from the experience. The villain was much cooler in Final Fantasy 2, taking over hell is pretty cool, then coming back to Earth more powerful to fuck over the people that sent you there, is cooler and that's what the Emperor does in this game. That being said, I think I will more fondly look back upon my experience with the first Final Fantasy. I don't regret my time spent with this game but it's certainly not an experience I would lookback upon with thirst. But the workload never ends and now it's time to move forward to Final Fantasy 3, exclusively for the Nintendo DS! (YAY)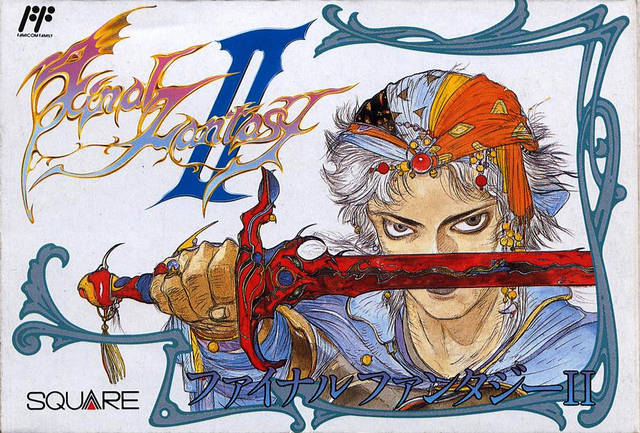 Final Fantasy 3:
I've played literally 5 minutes of Final Fantasy 3. All I can tell you is the art style is already annoying me and I will have more for you next month.
Octopath Traveller:
Last time we spoke I had barely started Octopath Traveller, but now that I have put a few more hours into the game I'm enjoying myself and have become quite engaged in the experience. I mentioned last time that I choose Therion as my first path, but in my opinion, it took far too long, nearly a full hour of gameplay, to enter any combat. The story writing in this game so far is entirely uninteresting, so this long stretch without any gameplay was boring me to death. The same issue interfered with the pacing and my enjoyment later when I had to sit through H'aanit's storyline. However, I loved the non-linearity of the game; I could have gone north or south after completing chapter 1 of Therion's story and visited any of the other characters. Both the dry mountain and lush forest area's I've journeyed through so far, have been dynamic and interesting, but I'm thirsting for a proper dungeon. Additionally, Therion levelled up 10 levels from one battle when I effortlessly killed a supposedly high-level enemy, all while I was barely paying attention; that was cool. I will report back in a month with hopefully quite a bit more progression and with a lot more to talk about.
NJPW Destruction Tour:
There wasn't anything that catered to my specific interests on this tour, the Tomohiro Ishii vs Kenny Omega match was quite predictable, even if I hoped beyond hope that he would win, I and everyone else knew the outcome of this match. Naito vs Suzuki has been done to death at this point, and the final night didn't get interesting until after the main event was over. I had no stakes in the Okada vs Tanahashi match, my interest level in them is equal, so I watched this match half paying attention and without a horse in the race. But the most important talking point retrospectively from this tour is the big Jay White and Gedo turn on Okada after the Okada vs Tanahashi match. It was a brilliant swerve that I was kicking myself for not seeing coming. New Japan isn't fucking around when it comes to Jay White, he's young, has the character and charisma to carry a main event program and so I'm eagerly anticipating the direction they go with him and Gedo moving into Wrestle Kingdom 13 and beyond.
Hell in a Cell 2018:
Boring! I liked absolutely nothing on this show besides the result in the SmackDown Woman's Championship match. Becky Lynch won the championship just like I told you she would last month, because after all only heels are successful in WWE contemporaneously. Besides that, I have no understanding of why the praise for this show has been so universal. Ronda Rousey sold for Alexa Bliss for 10 minutes for some reason. Fuck the tag title match, I will never care about Dolph Ziggler again, you've burnt that bridge WWE, and Seth Rollins and Dean Ambrose are currently uninteresting and directionless. The only wrestler I care about in this match is Drew McIntyre. Why was the main event of this show McIntyre against Reigns? Both Hell in a Cell matches was forgettable and drawn-out bore fests. AJ and Joe had another disappointing match, AJ's 20th disappointing match of the year, and their feud was unnecessarily propagated by a finish that made both look like morons. And I didn't even pay attention to the mix tag match, give me a fucking break.
Mae Young Classic 2:
I'm liking the second annual Mae Young Classic a whole lot. I don't like Rhea Ripley's new gimmick, she's a national relative of mine coming from Australia, but her persona feels like she's playing the bad guy. She can't quite sell the authenticity of her character and that's largely the issue with everybody in this tournament, with only one standout exception. Even the other home-country girl Toni Storm is overly goofy and a bit cringy in her interviews, it still seems like she's playing an unconvincing character she doesn't quite believe in. But Io Shari is the obvious aforementioned notable exception. She looked like the superstar she absolutely is in her first-round match with Xia Brookside, who also has the makings of a superstar. She demonstrated in this solitary match that she and Sasha deserve to Main Event WrestleMania before Ronda and Charlotte even begin to sniff it. Io Shari is one of the greatest wrestlers in the world and her intensity and charisma were on display in this match. I can't wait to see her other matches in this tournament. Other names that stood out and impressed me, were Xia Brookside, who I already went over, and Killer Kelly who I'm interested to see develop on the NXT UK brand. I thought she excelled in her first-round match. I've spoiled myself on both the Mae Young Classic finals and the inaugural United Kingdom Woman's championship tournament, and I'm exceedingly happy for my Australian girls and feel deeply sorry the main roster girls that are going to have to compete with the finals of this tournament on the Evolution card, because that final is going to be outstanding.
Pokémon Emerald:
I peered over to my DS Lite and saw the cartridge of a threequarters-completed Pokémon Emerald game and then suddenly I was playing it again. I have long pronounced this game (and gen 3) as my favourite in the Pokémon series, with secretly never having actually completed a playthrough of Pokémon Emerald, only having completed playthroughs of Ruby and Sapphire. So, it was in my ideological best interest to finally finish this game of this save file I started sometime earlier this year. And let me say I'm the greatest Pokémon team creator of all time because this team is fun as fuck. Sceptile, Claydol, Camerupt, Crawdaunt, Exploud and Armaldo is fucking menacing team and every time I open up my party in the menu screen I'm rewarded with a glimpse of a satisfying group of captivating monsters ready to fuck shit up. While I was traversing the back half of this game I was reminded that I'm absolutely correct and these are the standout games in the franchise. The unique ways that water routes are crafted in this game is insane, it justifiably has the best water environments in any Pokémon game. The pulling currents puzzle, the diving puzzles, the waterfall inclusions and the variation in scenery with the rocks in certain areas, these are all elements integrated satisfyingly into this game. This game is the best what else can I say.
Pokémon Colosseum:
I got an itch and found myself for the 5th or 6th time, playing through Pokémon Colosseum, and after I finish it I'm planning on revisiting its sequel: Pokémon XD: Gale of Darkness, for the 5th or 6th time. I'm continuously drawn back to these games, I get an itch every few months to go back to them; at this point they're easily the Pokémon games I've played through the most time. To be fair they are also the shortest traditional Pokémon adventures and therefore 5 or 6 playthroughs of them isn't as impressive as it may sound. Very superficial elements can draw me to any piece of media and the two superficial elements I can identify about these particular games, that keep drawing me back are, the battle interface's aesthetic and having a team of large scale monsters rendered and realised in 3D console glory. I love both these aspects about both these games and it's the reason I come back to them constantly, I'll just think of having Aggron and Tyranitar back to back on my side of the battle, while traversing a sleek and smooth battle UI.