I recently went to an elimination final between the Brisbane Broncos and St. George Illawarra Dragons as part of the finals series for the NRL. The NRL (Nation Rugby League) is the second largest sport in Australia behind AFL (Australian Football League) and is an offshoot of traditional Rugby that you're possibly familiar with. It a weird hybrid game that's only popular in Australia and New Zealand, and it's easily the greatest sport I've ever watched. It's faster than the boring NFL games, makes more sense than average Rugby Union game and isn't pussy-shit like any random soccer game. But my recent adventure to the Brisbane Broncos' home stadium, Suncorp Stadium sitting amongst the only contingent of Dragons fans in the entire state reinvigorated my love for the sport and showed me for the first time the fun a live sporting experience can bring.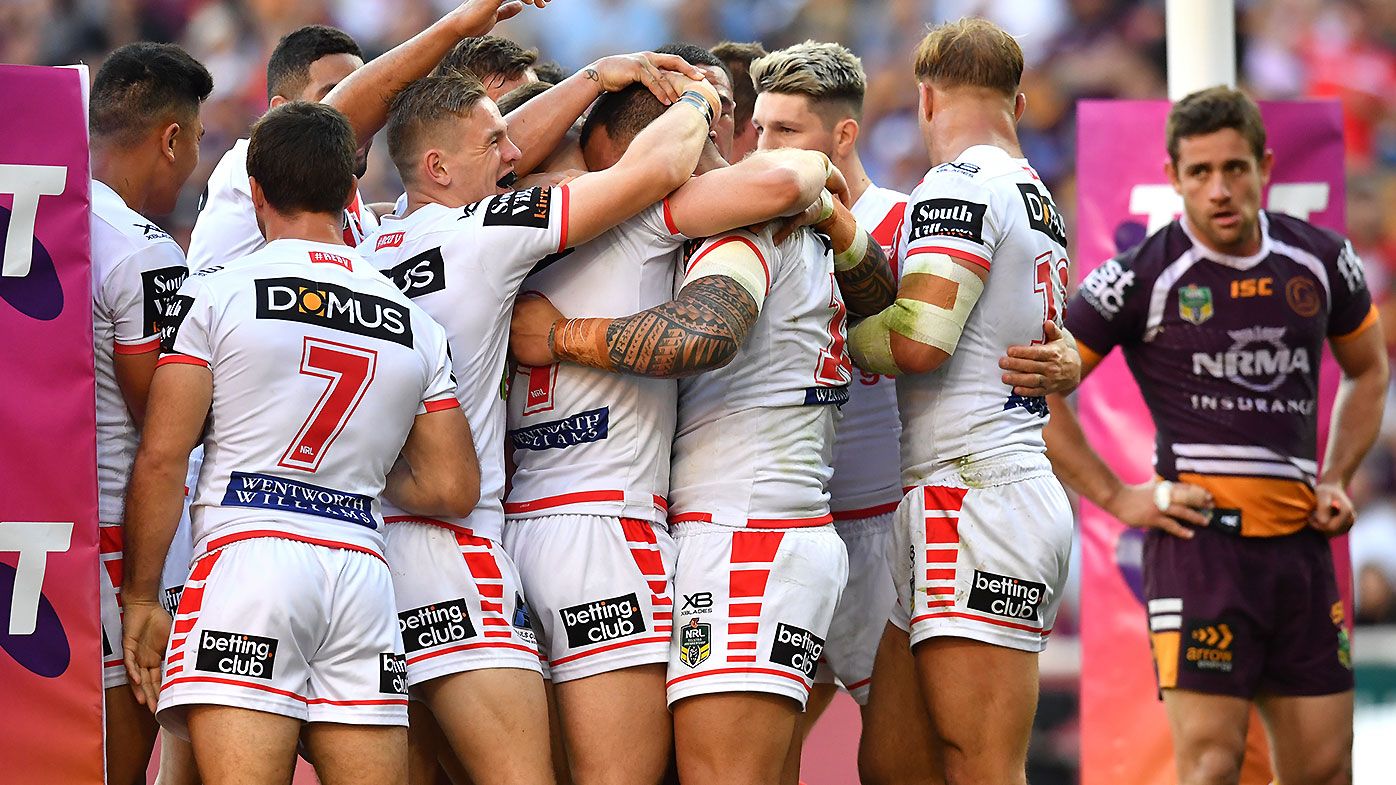 I had gone to 10+ NRL games previously, some of them I attended so young with my parents that I don't even remember them, but this was the first time I loved the experience more than the novelty of going to a game in person. I am primarily a fan of the always fledgling and hopeless Gold Coast Titans. They are the youngest club in the NRL, being founded in 2007, right when I was coming around as a kid and they were the new shiny team, with blue and yellow colours (my favourite) so I jumped on the band-wagon. So, all the recent games that I've attended, recently enough for me to remember, have been at the home stadium for the Titans on the Gold Coast, with a very different melancholic atmosphere in comparison with the blood feud ongoing between the Broncos and Dragons. The game had heavy stakes because it was an elimination final between two long-time rival clubs instead of a run-of-the-mill weekly game that the Titans will likely lose.
This game had wait, I was cheering for the underdog team, overwhelmed by the mass of Brisbane Bronco fans surrounding us on all sides; and then the Dragons destroyed the Broncos 48-18. The feeling of validation I got from the victory and the sensation of proving 40 000+ arrogant Bronco fans wrong was exhilarating. It was the biggest 'I told you so' moment of my life. This all culminated in one of the highlights of my year, I had so much fun at the game and now I eagerly anticipating the entire finals series coming over the next few weeks. The rush of adrenaline and the ever-present us vs them mentality took over and I had a great time. This experience may have been more rewarding and more instilled into my mind than any other media I consumed this year and has made me ultimately conclude that big time sporting events are peak media.