Game of Thrones Seasons 1,2 and 3 are fantastic television, maybe some of the best to ever be created. The acting, the writing, the world all combine into a refreshing show full of sex, death and subversion, and you could never fully tell what was coming. Season 4 was a noticeable dip in quality, things started getting noticeably dumber, but it was still fun. The best actors (namely Charles Dance) were still around but by the end of the season a variety of the best, most interesting characters were dead. Tragically, Seasons 5,6 and 7 were dumped on our television screens all across the world and we were left to reevaluate our standing in life and ask ourselves why Game of Thrones completely fell apart?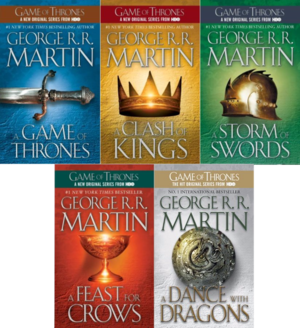 The most egregious example of the show falling apart is it its contradictions of itself. David and Dan (Game of Thrones Show Runners) seem to have misinterpreted what A Song of Ice and Fire truly is. These books are not about the White Walkers invading Westeros or Jon Snow and Dany coming together in one big allegory to stop climate change, it's about so much more. In the books the true plot is derived from subtextually altercations and inferred battles between Bittersteel and Bloodravern and who they manipulate everything from the shadows, and hive minds and that things aren't always as they seem, and linage means nothing or your beliefs about it are completely misguided. An interesting example from the novels that would completely undermine the entire structure of the show is that the Starks supernatural powers seemingly aren't derived from the Stark bloodline but another assumingly less important Northern house's bloodline. Preston Jacobs explained this all in one of his latest videos and his videos just highlight the depth and complexity in these books. George slaves over family trees so that generics line up for fictional powers like Dragon riding and Green Seeing. But if you watched the show them you'd be lead to believe that Jon Snow is a God because his mom and dad were prevalent in a widely popular internet fan theory and he's going to save the world and fix everything.
Another infuriating reason for the shows demise in quality is that it has become masturbatory fan service garbage. Constantly the show is using the crutch of giving fans what want through what they've theorised about on message boards and in YouTube videos when the entire original intrigue of the show, the very element that differentiated this show was its unpredictability and ability to subvert fan expectations in satisfying ways. Now the entire focus of a finale is to portray that Jon Snow is great and important because of his linage; because he's a Targaryen and a Stark he's the literal Song of Ice and Fire, and the prince that was promised and so on and so on. When this is antithetical to the entire message of the series! Joffrey and the Mad King are what happen because of linage. The whole point is that the entire medieval societal structure is terrible, and you are affirming it by supporting this by freaking out when your favourite internet theory is proven true. Basically, you're being a dumb fuck whose missed the entire point, just like the show runners seemingly have.
Ultimately, it's not entirely David and Dan's fault that Game of Thrones completely fell apart, George seems to have gone radio silent on them upon realising that he couldn't keep up with the show content wise. The show at its current pace was going to end before his series ever could and he's become more tight-lipped about key events. This is only scratching the surface of the issues I have with this show and my love for the A Song of Ice and Fire novels and their impeccable and seemingly impossible complexity. Hopefully you'll re-join me in the future when I have the opportunity to voice more of my love for the books and hatred for the second half of the show in greater detail.